At ENGIE in North America, innovation and excellence create a platform for opportunity and growth. A leading provider of electricity, natural gas, and energy services. With 154,950 employees in more than 70 countries worldwide, ENGIE achieved revenue of €69.9 billion (U.S. $77.6 billion) in 2015. ENGIE is committed to being a leader in the energy transition.
We are looking for talented and motivated people to create the future of energy. Join a rewarding and flexible work environment that encourages innovation and creativity, and help us meet the energy challenges of today and tomorrow.
Job Listings
Manage My Profile
Benefits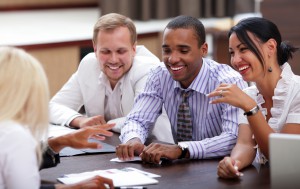 Below is a brief summary of our company benefits for U.S. based employees. Any or all of these benefits may be changed, eliminated, or replaced in accordance with the terms of the particular benefit plans.
Medical and Prescription
We offer comprehensive medical and prescriptions plans to our employees, providing a flexible system that allows you to select the options that best suit your individual or family needs. Our medical plan is administered by BlueCross Blue Shield of Illinois; our prescription plan is provisioned by Caremark.
Dental
We offer a DPPO that allows participants to use their own dentist or select a network dentist.
Vision
We offer the Vision Service Plan (VSP) to our employees.
Life Insurance
We offer company-paid life insurance equal to two times the annual base salary (up to $850,000 plus targeted STI) and voluntary additional life insurance, including coverage for spouses and children.
Vacation, Holidays and Sick Leave
We offer a vacation package of 15 days per year, with incremental increases based on years of service. Ten days per year are designated as company holidays for employees, along with two individually selected "floating" holidays. 40 hours of sick leave is provided.
401(k)
ENGIE North America offers a 401(k) retirement plan, matching all employee contributions at 100% up to the first 3% of pay and 50% of the next 2% of pay. Additionally eligible employees receive a quarterly profit sharing contribution of 1.5% up to the IRS allowed compensation amount.
AD&D, STD and LTD
Employees are provided accidental death and dismemberment coverage (two times base salary up to $850,000 plus targeted STI) including business travel insurance, with an option to obtain additional coverage. Also, short-term and long-term disability coverage is provided with an option for employees to purchase additional LTD coverage.
Life Assistance Program
We offer a comprehensive Life Assistance Program (LAP) at no cost to employees. Our LAP provides free confidential counseling, assessment, referral and follow-up services to help you identify and resolves personal problems.
Tuition Reimbursement
Fees and tuition for work related degrees or courses successfully completed by employees are refundable, up to a limit, in accordance with applicable department guidelines. This includes examination fees for professional registration/certification programs.
Tuition and fees for successfully completed course(s) toward a work-related degree are reimbursed in accordance with applicable company guidelines. Enrollment and examinations fees for professional registration/certification programs are reimbursed at 100% with the appropriate approval.
Also offered:
Jury Duty Leave, Bereavement Leave and a Flexible Spending Account.
Equal Employment Opportunity
Qualified applicants are considered for employment, and employees are treated during employment without regard to race, color, religion, sex, sexual orientation, national origin, age, disability, veteran status, gender identity, or expression, genetic information or any other legally protected status.
EEO is the law. Please review this Equal Employment Opportunity Poster.
Our goal is to treat all individuals with fairness, dignity and respect throughout all phases of the recruiting process. Any decisions on recruitment and selection are based solely on objective and job-related criteria in line with business needs and ENGIE global values, policies and positions.
Reasonable Accommodations
If you have a disability that requires a reasonable accommodation be made in order for you to apply for a position at ENGIE North America Inc., please email us specifying the reasonable accommodation you are requesting, along with the job reference number. A human resources representative will review your request within two business days. Determinations on request for reasonable accommodation will be made on a case-by-case basis.