Engagement with Education Institutions
ENGIE North America leverages its relationships with K-12 campuses and universities to help ensure children and adults have the resources and skills they need to meet academic objectives and build bright futures.
Navigate each section below to learn more about our 2020 sustainability performance.
Supporting academic collaboration
ENGIE emphasizes academic collaboration in its agreements for energy management programs with universities. New engagements with universities will lead to important educational programs, including internships as well as academic enrichment tie-ins focused on sustainability. Today, the following activities are taking place with several top higher education institution partners:
Internships connected with our programmatic work on campuses and adapted to pandemic conditions
Enhanced academic resources focused on sustainability and environmental impact
Guest lectures connecting economics with engineering concepts to help form real-world analytic and decision-making skills
Field visits to help students better understand the mechanics of campus utility systems and the impact of modern technologies in energy conservation strategies
Coping with the impact of COVID-19
The academic community was hit especially hard in 2020 by the COVID-19 pandemic, impacting virtually every area of operations at institutions across the nation.  To support academic partners through the health care crisis, ENGIE North America transformed plans and developed new opportunities to engage students in a remote learning environment.



Responding to new operational priorities
ENGIE North America supported many K-12 institutions through the COVID-19 crisis.  Like many schools during the pandemic, Compton Unified School District in California – a long-time customer of ENGIE North America – faced an urgent need to shift operational and academic priorities.
At the onset of the health crisis, a $52 million, three-phase energy project to address aging facilities, air quality and cost controls was well underway.  When suddenly confronted with the challenges of the pandemic, Compton USD reached out to ENGIE North America to develop a healthy building re-entry plan that included improving filtration of HVAC systems to combat the spread of the virus.
Amplifying virtual learning opportunities
In addition to Compton USD, ENGIE North America also pivoted the traditional in-person, eight-week internship programs of Sangamon Valley, Oakland and Hayward USDs to virtual formats.  Speakers were brought in to support distance learning environments and curriculum was reformatted to accommodate remote engagements.
In all, 16 students participated in ENGIE North America's virtual internship programs, learning about the benefits of energy efficiency, how to perform energy audits and how to engage others in reductions through outreach, clubs and sustainable habits.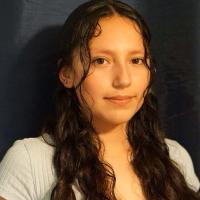 This internship has been such a great learning experience. Most of all, I loved gaining more insight in not just energy efficiency but about issues all over the world!"
Emily Navarro
ENGIE North America Intern, Centennial High School