Acquisition
Press Release
ENGIE North America Acquires Genbright
Date: 05/15/2019
May 15, 2019 – Houston, TX – ENGIE North America Inc. today announced the acquisition of Genbright LLC of Hingham, MA, a company pioneering the integration of distributed energy resources into wholesale electricity markets. The purchase enables ENGIE and its DER businesses, including ENGIE Storage, to further the adoption and growth of DERs within markets throughout the United States.
ENGIE Storage has been working with Genbright since 2017 to unlock the full potential of energy storage by establishing the capability to deliver valuable competitive services into wholesale electricity markets. ENGIE's purchase of Genbright enables the full integration of wholesale market bidding, scheduling, and dispatch optimization capabilities into ENGIE Storage's GridSynergy® platform. Genbright currently manages a portfolio of more than 50 MW of DERs, including front and behind-the-meter solar, demand response and energy storage, using its proprietary wholesale market platform. The purchase was finalized on May 10, 2019.
"This acquisition coupled with ENGIE Energy Marketing NA's power market operations allow ENGIE Storage to deliver co-optimized energy storage services seamlessly that span from behind-the-meter peak demand shaving and energy arbitrage to in-front-of the-meter wholesale electricity market capacity, energy, and ancillary services, all from a single energy storage asset," said Christopher Tilley, chief executive officer of ENGIE Storage. "This unique, integrated capability allows us to unlock significant additional value for our customers."
Distributed energy storage and grid storage can improve the reliability, resiliency, and stability of the electricity grid, and enable the adoption of more renewable energy resources such as wind and solar. Recognizing these benefits, the Federal Energy Regulatory Commission issued an order for electric grid operators across the country to establish rules allowing the full participation of energy storage resources in regional wholesale electricity markets. ENGIE's acquisition of Genbright ensures that ENGIE Storage is positioned to deliver capacity, energy and ancillary services effectively in markets operated by Regional Transmission Organizations and Independent System Operators as these rules are rolled out across the United States.
"This acquisition paves the path toward realizing the stacked-value stream potential of energy storage referred to by so many in the energy industry," said Tim Larrison, chief financial officer of ENGIE Storage who along with Tilley will serve as a director on the Genbright board. "Working with Genbright will further support both ENGIE Storage's market offerings and asset management of ENGIE North America's generation portfolio."
"ENGIE has played a leading role in market development from shaping policy to new business models designed to get more storage on the grid." said Joseph G. Crespo, chief executive officer from Genbright. "We look forward to supporting ENGIE North America's energy storage and generation portfolio."
About ENGIE in North America Inc.
ENGIE North America manages a range of energy businesses in the United States and Canada, including clean power generation, cogeneration, and energy storage; retail energy sales; and comprehensive services to help customers run their facilities more efficiently and optimize energy and other resource use and expense. Nearly 100 percent of the company's power generation portfolio is low carbon or renewable. Globally, ENGIE is the largest independent power producer and a leading energy efficiency services provider in the world, with operations in 70 countries employing 160,000 people, including 1,100 researchers in 12 R&D centers. For more information on ENGIE North America, please visit our Instagram, LinkedIn, Twitter, or Facebook pages or www.engie-na.com web site.
About ENGIE Storage Services NA LLC
ENGIE Storage helps power the world more efficiently and sustainably. As the nation's number one distributed energy storage company, it serves energy producers, distributors, and consumers, including utilities, network operators, and energy consumers in business and government. Visit www.engiestorage.com to learn more.
More News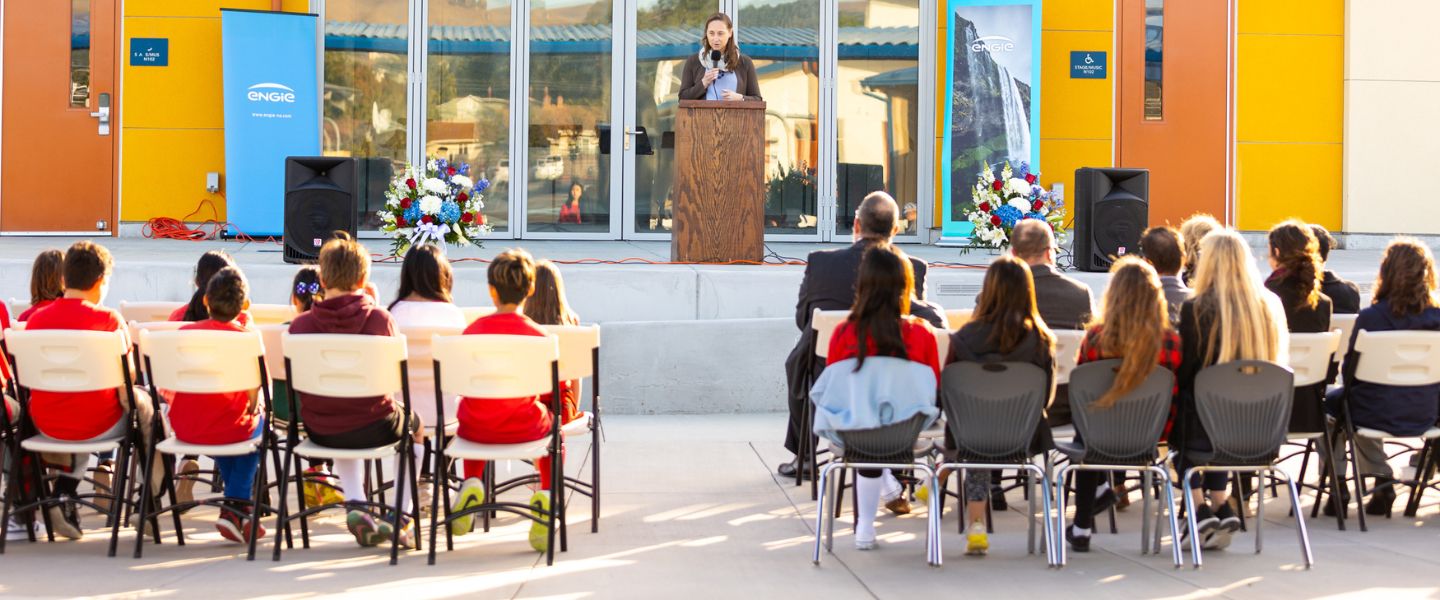 Community
Infrastructure
K-12 Education
Optimize Use of Energy and Resources
Press Release
Solutions
Sustainability
Dublin Unified School District Unveils $26 Million Sustainability and Energy Efficiency Project with ENGIE
10/26/2023