ENGIE's global roadmap to carbon neutrality.
Decarbonizing the energy sector worldwide is a challenge like no other: Energy production is responsible for nearly three-quarters of global greenhouse gas emissions. And reaching carbon neutrality requires a complete transformation of the energy sector that drives the global economy. Yet 80% of today's energy suppliers still depend on fossil fuels. As a leader in the energy transition, ENGIE Global has set goals to be carbon neutral by 2045 and support customers' decarbonization with a target of 45Mt CO2-eq per year. We intend to achieve these goals through improvements in three areas: production, process, and supply.
What's ENGIE Global's roadmap?
ENGIE Impact, the entity dedicated to customer decarbonization strategies, has produced a roadmap that identifies and explains the phased implementation to initiate the carbon neutral transition that is at the very heart of our corporate strategy. The report, "Accelerating Decarbonization of the Energy Sector," is a synthesis of ENGIE Global's approach, from the roadmap to alignment around the vision to the next steps needed.
Download "Accelerating Decarbonization of the Energy Sector" here.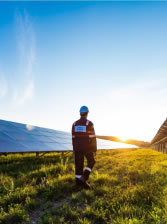 Accelerating Decarbonization of the Energy Sector
PDF 1.94 MB