ENGIE North America Releases 2020 Sustainability Report
Date: 05/25/2021
ENGIE has mobilized its resources to pioneer a low-carbon future for both the people and our planet. Today, we make our commitments even clearer with the 2045 Carbon Neutrality Pledge — our pathway to achieving net zero in all our business activities.
The planet needs our urgency. With objectives for 2030 ENGIE employs inventive technologies that convert natural elements into energy and initiates business activities in favor of a carbon-neutral world. 
The report details action ENGIE North America is taking, together with customers and communities, to achieve a carbon neutral future.
The report outlines: 
Impressive statistics, like: 
– The addition of nearly 2 GW of renewable generation, which — in addition to the divestiture of thermal generation resources — increased the share of zero-carbon generation in our portfolio to 72%;
– The avoidance of more than 3.2 million metric tons of CO2 equivalent in 2020;
– The funding of the creation of nearly 3,000 construction jobs in 40 counties in 12 states and created 150 jobs in rural communities. 
 
Explanations of our main Corporate and Cities Power Purchasing Agreements

 

like the ones with Amazon (wind

 

and

 

solar

 

projects)  Hartnell College (solar project) and

 

QTS Data Centers (storage project).
 
Several customer and partner interviews

 

that discuss ENGIE North America's collaboration and solution-oriented approach to achieve client energy goals. 
 
Leading in biodiversity with:
– A study of Mt. Tom, the largest utility-scale storage and community solar farm in Massachusetts, to assess whether fencing and arrays deter wildlife use—none was found; and
– Bird and bat conservation strategies developed for all wind projects, and post-construction monitoring programs initiated at all facilities after they begin commercial operation. 
This report is a powerful illustration of ENGIE North America's mission in the zero-carbon transition by accelerating the deployment of clean, affordable, innovative and resilient energy solutions. 
In addition to the focus on sustainability, the report also outlines actions ENGIE North America is taking in diversity, equity and inclusion, such as taking a stand against racism; a commitment to growth, training and development; an outline of education institution relationships; and more. 
Read more about our efforts in the 2020 Sustainability Report.
For more information about our global strategy, please also read ENGIE's updated Integrated Report, which provides a comprehensive, forward-looking vision of the Group, its purpose, ambition, strategy, objectives, governance and value creation. We look forward to creating a carbon-neutral future together.
More News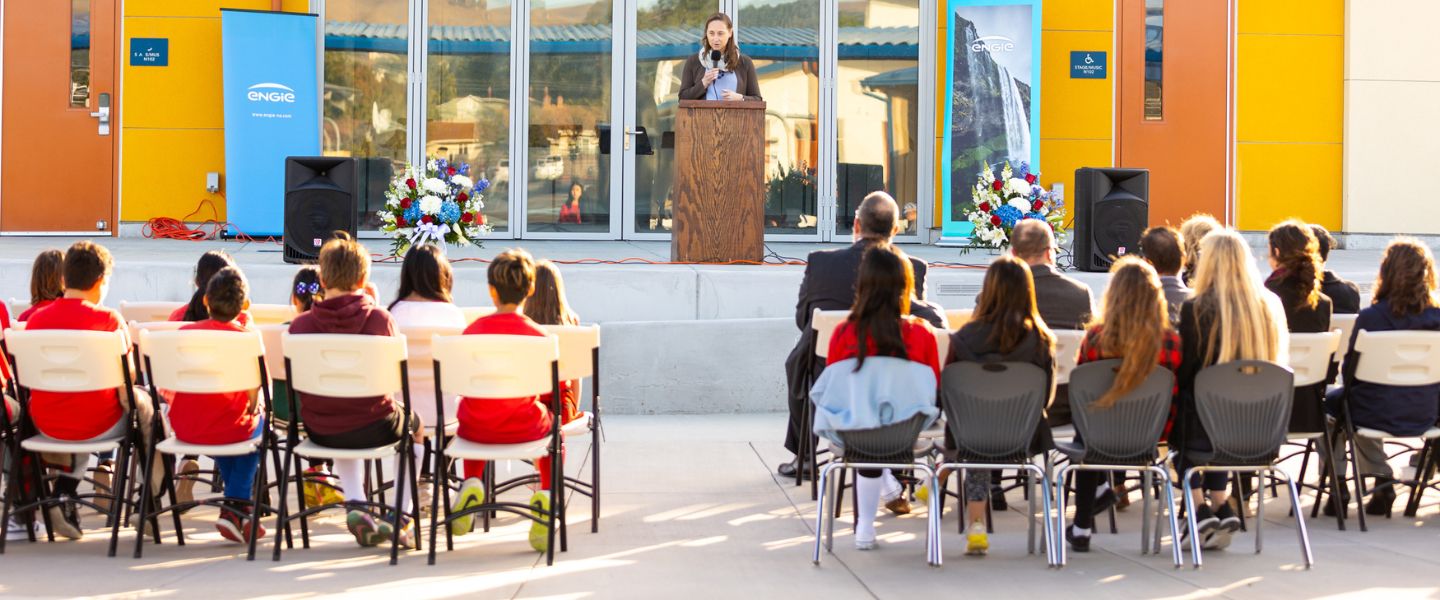 Community
Infrastructure
K-12 Education
Optimize Use of Energy and Resources
Press Release
Solutions
Sustainability
Dublin Unified School District Unveils $26 Million Sustainability and Energy Efficiency Project with ENGIE
10/26/2023