Neptune LNG
About
Neptune LNG is a liquefied natural gas (LNG) deepwater port located approximately 22 miles off the coast of Boston, Massachusetts. The port was conceived in the 2000s to deliver natural gas to the supply-constrained New England market on a year-round basis. Yet, as a result of significant changes in the natural gas supply market in the U.S. and a focus on renewable energy in Massachusetts and New England for future energy supply, the port has been inactive for many years.
Neptune LNG's owner, ENGIE, supports the evolution to new and cleaner forms of energy. In fact, ENGIE is a global leader in the Net Zero transition that designs and delivers integrated renewable and low-carbon energy solutions for public and private organizations.
Decommissioning Evaluation
ENGIE is evaluating the decommissioning of Neptune LNG. We are committed to stakeholder engagement during this process and encourage those with questions or comments to contact us by:
phone: 978-465-4500
email: julie.vitek@engie.com
Boating Safety
Neptune LNG consists of two large underwater buoys designed to connect to a ship carrying LNG that vaporizes the onboard LNG into natural gas and discharges it into a subsea pipeline. Marker buoys encircle the port location on the sea surface for the safety of any boaters in the area. For more information, please download our safety message for boaters below.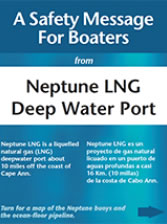 A Safety Message for Boaters – Neptune LNG
PDF 3.41 MB