Community
Event
Press Release
Renewables
Solar
Wind
ENGIE adds more than 650 MW to U.S. operations
Date: 03/20/2023
HOUSTON – ENGIE North America (ENGIE) announced four projects reached commercial operation at the end of December 2022 with a total production capacity of 651 MW. The addition of these projects brings ENGIE's renewable operations to more than 4.8 GW across the U.S. and Canada.
The portfolio additions include two Texas projects, the 300 MW Limestone Wind project in Navarro and Limestone counties alongside the 250 MW Sun Valley Solar project in Hill County northeast of Waco.
Dedication ceremonies to formally inaugurate Limestone and Sun Valley were held earlier this month, bringing together some 200 people including customers, landholders, local, state and federal representatives, community members and development partners, reflecting both the addition of 550 MW of clean energy to the grid, as well as the long-term commitments to the three counties which are expected to generate around $88 million in tax revenues over the life of the projects.
A further two solar projects totaling 101 MW came online in Halifax County, Virginia and New Castle County, Delaware, which was ENGIE's first grid scale project in that state.
"Maintaining momentum with our projects and meeting the expectations of our customers to help them deliver on their own Net Zero journey was and remains our key focus. Our proven ability to deliver consistently in a dynamic environment will be a critical differentiator over the next few years," said Dave Carroll, Chief Renewables Officer of ENGIE North America. "Last year was a volatile one for the renewables industry, including sector-wide supply chain challenges, a rapidly evolving incentives landscape, inflation and all coupled with an accelerating commitment to a Net Zero future made for a lively twelve months, but one where our breadth and depth of the ENGIE team came through."
Earlier in 2022, Procter and Gamble (P&G) announced a Power Purchase Agreement (PPA) with ENGIE for production from Sun Valley.
Jack McAneny, P&G Vice President Global Sustainability said at the time:
"Partnering on new renewable power projects brings long-term, zero emissions renewable electricity on-line and is an important strategy to help us achieve our goal of purchasing 100% renewable electricity. We are excited to work with ENGIE on projects like Sun Valley that progress our strategy and provide benefits to the local community."
Last year also saw three customers announce PPA's for Limestone – LyondellBasell, Stanley Black and Decker and Whirlpool Corporation.
LyondellBasell commented:
"LyondellBasell announced four power purchase agreements (PPA) during 2022 totaling 381 megawatts of renewable energy and the Limestone Wind Project was the first PPA in our portfolio. We are excited to see it beginning operations as this marks an important milestone for us in achieving our sustainability goals," said Aaron Ledet, Senior Vice President, Olefins and Polyolefins Americas of LyondellBasell. "Renewable Electricity is a vital component of how we aim to deliver our greenhouse gas emissions reduction target, which is a 42% absolute reduction in scope 1 and 2 emissions by 2030, relative to a 2020 baseline."
Stanley Black and Decker commented previously:
"Creating a more sustainable world and achieving carbon neutrality by 2030 requires a transition to renewable energy," said Deb Geyer, Corporate Responsibility Officer for Stanley Black & Decker. "This project, operational by the end of 2022, will continue to support Stanley Black & Decker's strategy to source 100 percent of its United States and Canada electricity needs from renewable power."
Whirlpool Corporation commented:
"This latest wind project is an important part of our ongoing sustainability initiatives, adding additional clean, renewable energy to the electrical grid while helping to reduce the company's carbon footprint," said Whirlpool Corp. Sr. Director of Sustainability Beat Stocker. "Now that Limestone Wind is becoming fully operational, we have achieved an important step in matching 100% of our U.S. plant electricity emissions, taking us closer to our Net Zero by 2030 goal for our operations."
ENGIE has established a large and growing pipeline of wind, solar and storage projects across the U.S. and Canada, including two acquisitions last year that added some 50 early, mid and late-stage development projects to the portfolio.
"Globally ENGIE aims to add an average 4 GW of renewable capacity each year through 2025 and North America is poised to be a material contributor to that aspiration. We plan to almost double production capacity by 2025 across the U.S. and Canada," said Carroll. "We are already in construction for many of our 2023 projects, including storage, which will become an increasing element of our portfolio."
###
About ENGIE
ENGIE is a global leader in low-carbon energy and services. With its 96,000 employees, its customers, partners and stakeholders, the Group is committed to accelerate the transition towards a carbon-neutral world, through reduced energy consumption and more environmentally-friendly solutions. Inspired by its purpose ("raison d'être"), ENGIE reconciles economic performance with a positive impact on people and the planet, building on its key businesses (gas, renewable energy, services) to offer competitive solutions to its customers. ENGIE (ENGI), is listed on the Paris and Brussels Stock Exchanges. In North America, ENGIE has delivered integrated, innovative energy solutions to public and private organizations for nearly half a century. We employ approximately 3,000 people focused on enabling our customers to become more sustainable and achieve their decarbonization targets through expert project delivery and competitive solutions. For more information on ENGIE in North America, please visit our LinkedIn page or Twitter feed, https://www.engie-na.com/ and https://www.engie.com.
Media Contacts:
ENGIE North America
Michael Clingan, External Relations
Michael.clingan@external.engie.com
832-745-6057
More News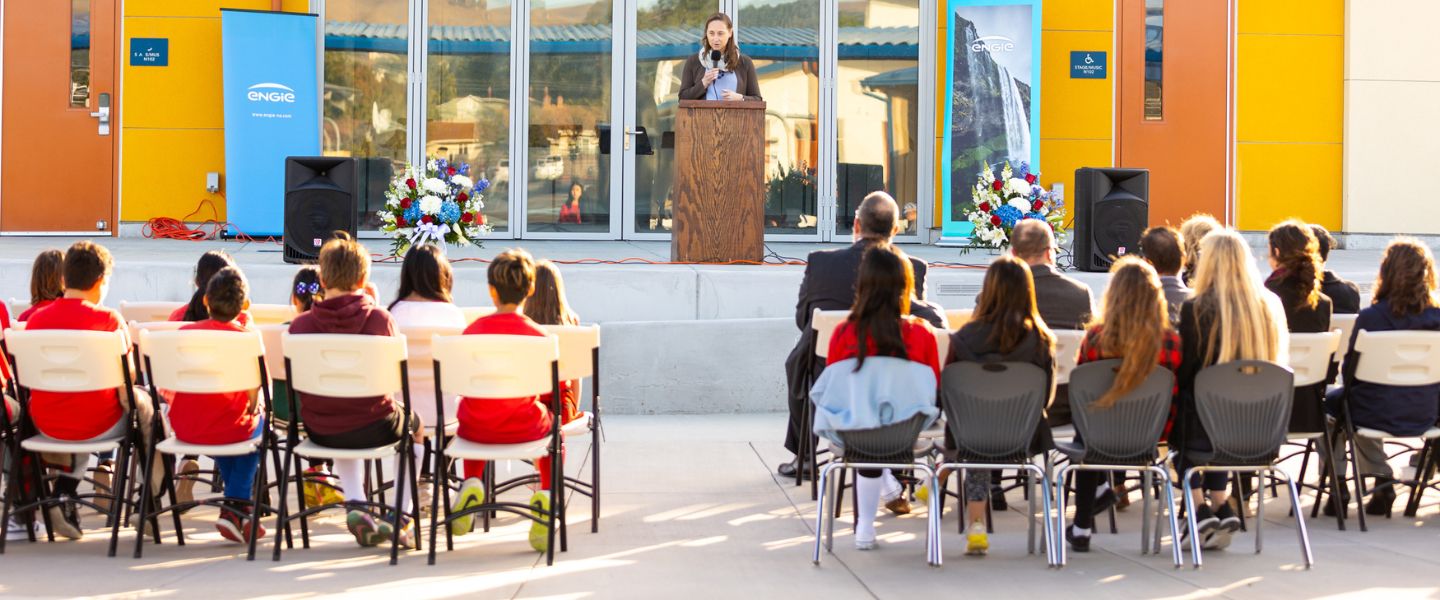 Community
Infrastructure
K-12 Education
Optimize Use of Energy and Resources
Press Release
Solutions
Sustainability
Dublin Unified School District Unveils $26 Million Sustainability and Energy Efficiency Project with ENGIE
10/26/2023