ENGIE Greens Power Consumption of 2018 Smart Energy Decisions Innovation Summit
Date: 02/22/2018
February 22, 2018 – Houston, TX – In a move that underscores the company's position as a leader in clean energy supplies, ENGIE North America announced today that it will supply renewable energy certificates (RECs) to the 2018 Smart Energy Decisions Innovation Summit held at Barton Creek Resort & Spa in Austin, Texas. The three-day event, held Feb. 25 through Feb. 27, brings together commercial and industrial executives in a unique and intimate setting to address a variety of energy management and sustainability challenges.
The Green-e® certified RECs represent the environmental attributes or benefits associated with a specific quantity of energy generated from a renewable source, such as solar or wind. Organizations that use RECs to offset their indirect greenhouse gas emissions help fund the operation and development of domestic sources of renewable energy.
Ken Cowan, Vice President of Solutions Sales and Marketing at ENGIE NA, said the company takes great pride in supporting the summit and working alongside Smart Energy Decisions to promote sustainable strategies.
"Smart Energy Decisions is highly regarded as a go-to resource on a broad range of research and knowledge on energy management and renewable energy," he explained. "Their coverage of these subjects – along with the insights they deliver at the annual summit – naturally complement the broad-based capabilities and expertise of ENGIE. We're pleased to green the energy consumption of an organization that shares in our commitment to clean energy."
ENGIE helps large commercial and industrial customers achieve economic value through sustainable strategies that blend supply, demand, and operations opportunities with innovative deal structuring and funding. Leveraging an "energy as a service" model, the company is leading the transformation to cleaner, smarter, more innovative solutions that help customers reduce energy costs and consumption while enhancing environmental commitments and ensuring reliable supply.
John Failla, Founder and Editorial Director of Smart Energy Decisions, said he couldn't be more pleased to have the backing of an industry leader like ENGIE.
"The supply of renewable energy certificates is a direct reflection of where we believe energy management is headed – toward a more sustainable future for everyone," said Failla. "It's an honor to have the support of ENGIE as we work to keep clean energy generation and consumption at the forefront of commercial and industrial energy strategies."
The Smart Energy Decisions Innovation Summit offers a forum for knowledge, best practices, and new ideas on advancing energy efficiency and renewable energy sourcing for large energy management programs. The annual event is operated by Smart Energy Decisions, a web-based information resource dedicated to delivering commercial and industrial consumers news, analysis, research, and opinions that drive more informed decisions.
For more information on Smart Energy Decisions, visit www.smartenergydecisions.com.
About ENGIE in North America
ENGIE manages a range of energy businesses in the United States and Canada, including electricity generation and cogeneration, natural gas and liquefied natural gas (LNG) distribution and sales, retail energy sales, and services to help customers run their facilities more efficiently and optimize energy use and expense.
About ENGIE
ENGIE is committed to taking on the major challenges of the energy revolution, towards a world more decarbonized, decentralized, and digitalized. The Group aims to become the leader of this new energy world by focusing on three key activities for the future: low carbon generation in particular from natural gas and renewable energy, energy infrastructure, and efficient solutions adapted to all its customers (individuals, businesses, territories, etc.). Innovation, digital solutions, and customer satisfaction are the guiding principles of ENGIE's development. ENGIE is active in around 70 countries, employs 150,000 people worldwide and achieved revenues of 66.6 billion in 2016. The Group is listed on the Paris and Brussels stock exchanges (ENGI) and is represented in the main financial indices (CAC 40, BEL 20, DJ Euro Stoxx 50, Euronext 100, FTSE Eurotop 100, MSCI Europe) and non-financial indices (DJSI World, DJSI Europe and Euronext Vigeo Eiris – World 120, Eurozone 120, Europe 120, France 20, CAC 40 Governance).
More News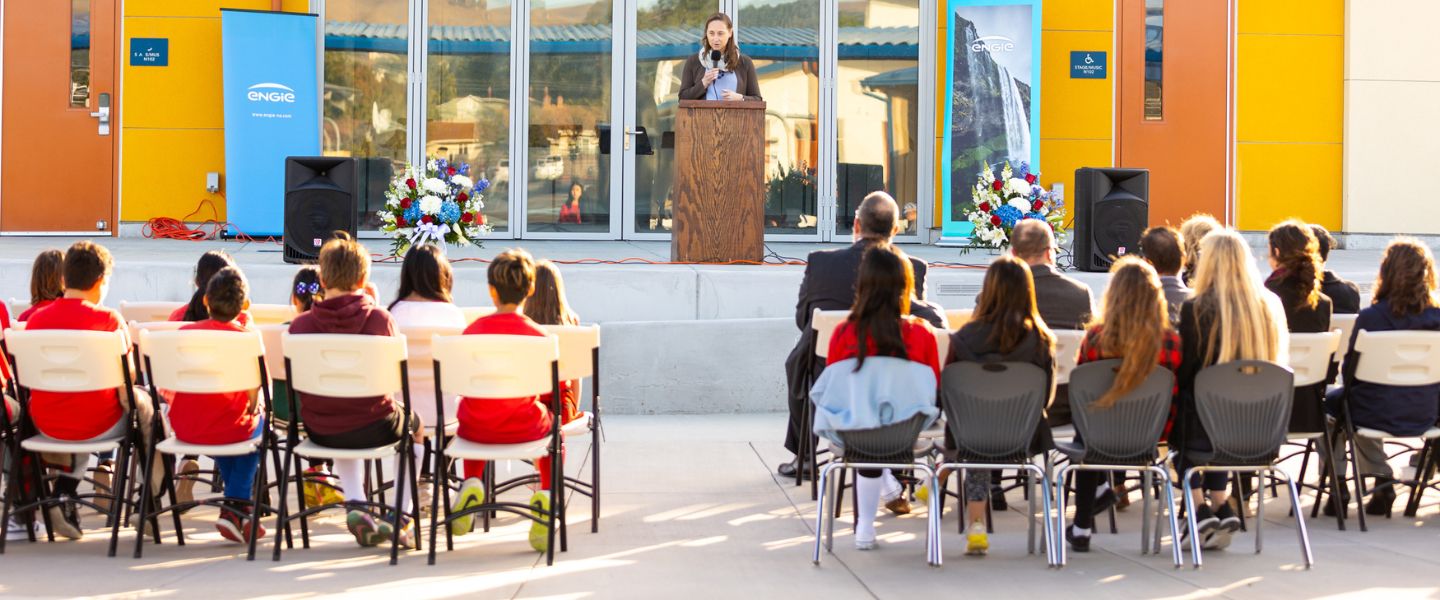 Community
Infrastructure
K-12 Education
Optimize Use of Energy and Resources
Press Release
Solutions
Sustainability
Dublin Unified School District Unveils $26 Million Sustainability and Energy Efficiency Project with ENGIE
10/26/2023