Acquisition
Press Release
ENGIE Acquires Six Northeast Energy Services Companies from Talen
Date: 09/15/2017
September 15, 2017 – Houston, TX – ENGIE North America today announced that it has acquired six mechanical services companies from the Talen Energy Group. The companies, B-G Mechanical Contractors, B-G Mechanical Services, Elmsford Sheet Metal Works, Inc., Fred Williams, Inc., H.T. Lyons, and TryState Mechanical are based in Pennsylvania, New York, and New England and together employ 750 people.
This acquisition provides ENGIE a platform to deliver mechanical contracting services to commercial and industrial and public sector customers in a dynamic region characterized by high energy intensity and seasonal demand, with a complementary commercial and regulatory framework that supports energy efficiency and carbon reduction. These companies have direct relationships with owners and operators of complex mechanical systems to provide them with a single point of contact for a range of services including:
Heating, Ventilation, and Air Conditioning (HVAC)/Plumbing system design, build, and installation;
HVAC service and preventative maintenance (including inspections, cleaning, and replacement of critical systems);
Energy efficiency solutions (computer-aided design, implementation of energy efficiency controls and equipment);
Plant maintenance and process piping;
Building Management Systems (BMS) and Building Information Modeling (BIM); and
Sheet Metal
Heating, ventilation, and air conditioning equipment consumes a substantial portion of energy in commercial, industrial, and institutional buildings (up to approximately 40%), prompting growth in demand for operations and maintenance services to optimize systems or replace them all together with more efficient ones. In addition to designing, building, and installing new systems, ENGIE's objective is to grow the recurring operation and maintenance services of this six company platform by leveraging ENGIE's O&M expertise. As well, ENGIE will look to cross sell other ENGIE North America C&I energy solutions to these companies' customers which span the technology, healthcare, commercial/office, industrial, and institutional sectors.
"The skillset of the Talen Energy Group companies expands our ability to develop customer-centric energy services for commercial, industrial, institutional, and public sector customers in a key region for ENGIE North America," said ENGIE North America President and CEO Frank Demaille. "I look forward to having our 750 new colleagues join our efforts to continue to build our business here in North America and make a positive difference for a new range of customers."
About ENGIE
ENGIE manages a range of energy businesses in the United States and Canada, including electricity generation and cogeneration, natural gas and liquefied natural gas (LNG) distribution and sales, retail energy sales, and comprehensive services to help customers run their facilities more efficiently and optimize energy use and expense. Nearly 100 percent of the company's power generation portfolio is low carbon or carbon free. Globally, the company is present in 70 countries and employs 153,000 people, including 1,000 researchers in 11 R&D centers. For more information, please visit www.engie-na.com, @ENGIENorthAm, and www.engie.com.
Contact:
Julie Vitek
ENGIE North America
713 636 1962
Julie.vitek@engie.com
More News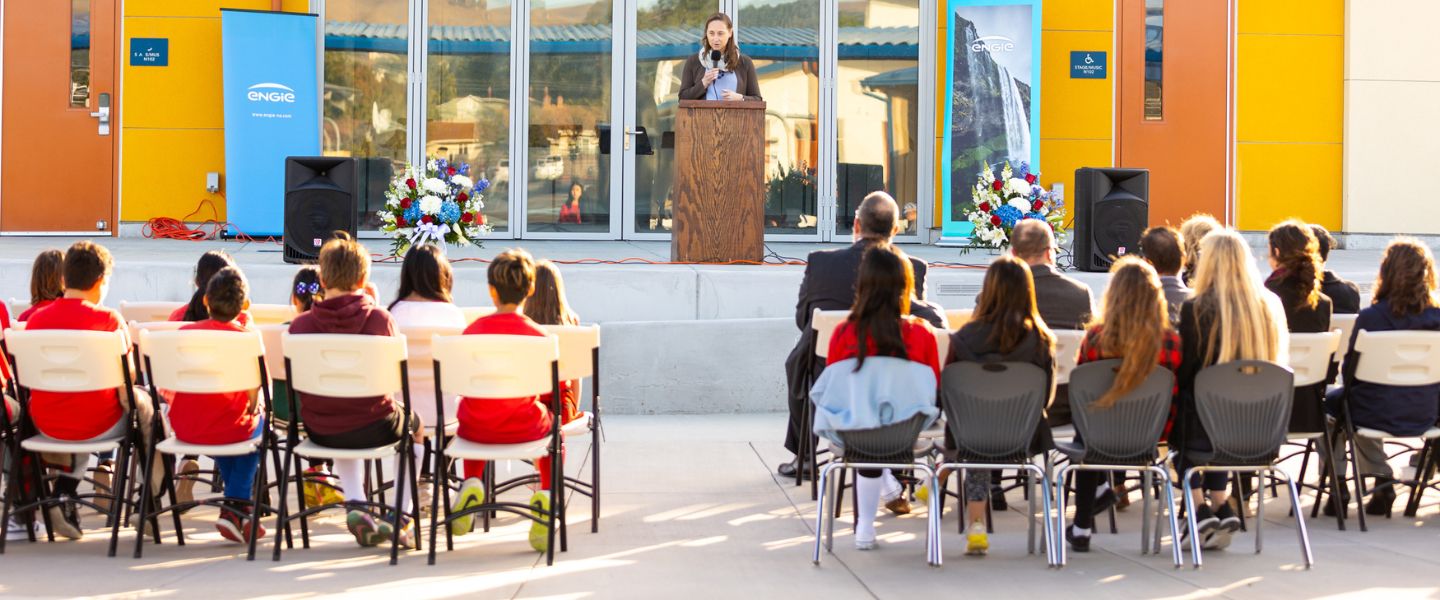 Community
Infrastructure
K-12 Education
Optimize Use of Energy and Resources
Press Release
Solutions
Sustainability
Dublin Unified School District Unveils $26 Million Sustainability and Energy Efficiency Project with ENGIE
10/26/2023